Welcome to Southwestern Ontario's premier under ground computerized sprinkler System Company.
Green-Up's systems are a quiet, efficient, and convenient way to water your lawn. You will save time and money by automatically watering your yard with just the right amount of water.
Since 1986, Green-Up Irrigation has specialized in installing and maintaining computerized lawn sprinkler systems. Because we also provide on-going service for the systems we install, you can count on first-rate, quality workmanship from the very first meeting.
We have a team of installation professionals that can meet your irrigation needs. We can install your system during the construction phase of your new home or design a system for your existing residential or commercial site. Call today for your free estimate!
Rain Bird Select Contractor
Green Up Irrigation is proud to be a Rain Bird Select Contractor, and uses genuine Rain Bird products to ensure a long lasting and quality installation.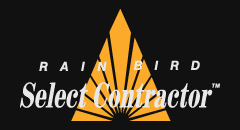 Creative Homescapes
Green Up Irrigation has teamed up with Creative Homescapes on many landscaping projects.
Visit Creative Homescapes' website